Helping Hands Homecare, Inc. is pleased to announce that it has received full accreditation status from the Commission on Accreditation for Home Care (CAHC).  Helping Hands has always been extremely diligent about delivering the best possible care to its clients and is proud that our policies and procedures, as well as our quality of care, meet and exceed the standards set forth by CAHC.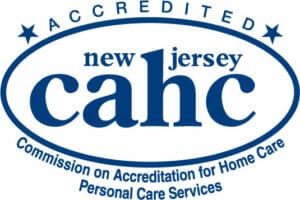 CAHC, a non-profit 501(c)(3) independent accreditation body, was founded in collaboration with the New Jersey Department of Human Services in 1986.  Over the years they have played a significant part in establishing standards and assigning accountability in New Jersey's home care industry.
Helping Hands Homecare, Inc. chose to pursue accreditation from CAHC not only because of their high quality of standards but also because of their in-depth knowledge of the New Jersey home care field.  Like many industries around the country, the standards for quality vary from state to state.  Helping Hands felt it was very important that it develop a relationship with an organization that is in tune with, and representative of, the highest level of expectations set forth by the state of New Jersey.
In turn, Helping Hands, with its ongoing association with CAHC, strives not only to comply with but to take a leadership role in the ever-changing development of the home care industry in New Jersey.  As always, our goal is continued success in providing the highest quality of care for its customers.
If you or a loved one is looking for quality in-home care, we can help.  Our staff would be glad to discuss the situation and figure out the best possible solution for your individual needs.
Robert D'Arienzo
President
Helping Hands Homecare, Inc.
1199 Raritan Road.
Clark, NJ 07066
(908) 451-0715
Robert D'Arienzo
After graduating from Seton Hall University with a BS in finance Helping Hands Homecare's Owner / President, Robert D'Arienzo, went to work on Wall St. for six years. However, after Robert's grandmother became ill with stomach cancer Robert and his family needed to find assistance in the home for her. After many trials and tribulations Robert could see that there was a great need for quality home care services here in NJ and loved the idea of being able to assist other families who were going through what his family went through with his beloved grandmother.
Thus, Robert had found his passion. After almost a year of preparation Robert opened Helping Hands Homecare in 2003. Robert wanted Helping Hands Homecare to focus on providing the highest quality of caregivers, exceptional customer service, and providing a service that familys could depend on in their time of need. Since then Helping Hands has assisted hundreds of individuals with the simplest of needs to more complex cases while preserving those standards set out many years ago.
Robert is a Google Verified Author
Latest posts by Robert D'Arienzo (see all)