Home Care in Clark NJ
If you prepare homemade meals for your elderly loved one, it is probably your goal to cook meals that are both healthy and tasty.  If your loved one has a special diet due to a medical condition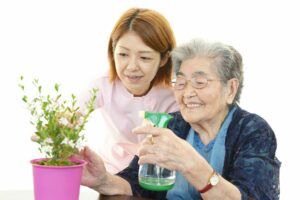 such as diabetes or high blood pressure, or if they are simply trying to eat a healthy diet overall, it can sometimes be difficult to make flavorful food that is also healthy.  When you forego the use of butter, salt, and other fats, you may feel that your meal is somewhat lacking in flavor.  Fortunately, you can give your meals a flavorful boost without compromising their nutrition content by using fresh herbs.  Fresh herbs can "wake up" the flavors in your cooking and help you to make meals that are truly memorable.  Buying herbs in the grocery store can get pricey, however, especially since you don't need to add a lot to your cooking and what is left over can sometimes go bad before you have the chance to use it again.  For this reason, it is a great idea to grow your own herbs at your loved one's home.  Herbs can be grown inside or outside and many find that the warm summer weather can really help their herbs to flourish.  If you and your loved one would like to grow your own useful herb garden, here are a few tips to help get you started:
Place Them in a Sunny Location
Most herbs prefer to be in full sun or in a place where they will get sun most of the day.  So, if you will be planting them in an outdoor garden, make sure they are in a sunny location.  If you plant them in pots outdoors, move them to the sunniest spot.  Or, if you are keeping them indoors, make sure that they are placed near a sunny window.
Water Frequently
Herbs need plenty of water to grow strong and spread.  Be sure to water your herb garden regularly throughout the hot summer months.  Over-watering can do damage, but under-watering can cause the plants to die.  Keep the soil damp, but not flooded.
Harvest When Needed
Once the herbs are established, you will be able to harvest them and use them in your cooking.  When you cut them, cut off stems close to a leaf intersection so that they will grow back quickly.
If you or an aging loved one are considering hiring

home care in Clark, NJ

, call the caring staff at Helping Hands Home Care today at 908-418-4299.  Providing Home Care Services in all of Northern and Central NJ, including Clark, Westfield, Cranford, Scotch Plains, Rahway, Linden, Summit, Edison, Elizabeth, Mountainside and the surrounding areas.
Source:  http://www.tastefulgarden.com/store/pc/Herb-Gardening-for-Beginners-d19.htm
Robert D'Arienzo
After graduating from Seton Hall University with a BS in finance Helping Hands Homecare's Owner / President, Robert D'Arienzo, went to work on Wall St. for six years. However, after Robert's grandmother became ill with stomach cancer Robert and his family needed to find assistance in the home for her. After many trials and tribulations Robert could see that there was a great need for quality home care services here in NJ and loved the idea of being able to assist other families who were going through what his family went through with his beloved grandmother.
Thus, Robert had found his passion. After almost a year of preparation Robert opened Helping Hands Homecare in 2003. Robert wanted Helping Hands Homecare to focus on providing the highest quality of caregivers, exceptional customer service, and providing a service that familys could depend on in their time of need. Since then Helping Hands has assisted hundreds of individuals with the simplest of needs to more complex cases while preserving those standards set out many years ago.
Robert is a Google Verified Author
Latest posts by Robert D'Arienzo (see all)